This month's shipment takes a deeper dive into how climate affects wine by tasting some "warm climate wines."
This shipment features all red wines because red wine varieties flourish in hot climates. In fact, some grapes have trouble ripening anywhere else. So, let's experience the qualities of warm climate wine regions.
Join Now! Join Wine Folly's educational wine club here.
Wine Club 005: Warm Climate Wines
This month's selection features several wine regions in hot climates worth knowing. Why? Well, these regions produce top-quality wines made with international grapes. It's a great way to taste familiar varietals and learn what makes a "warm climate" wine.
Also, it's hard not to mention the deliciousness of these wines! Warm climates are all about ripeness and intensity – their palates feel oily with glycerol, and sweet alcohol warms the back of your throat. Perfect wines to cozy up with on a cold night.
Warm climates in South Africa, California, Spain, and Australia
We wanted to highlight some of the world's most classic warm and hot climate wine growing regions with the varieties of Cabernet Sauvignon, Syrah, and Grenache (aka "Garnatxa Negra"):
Wine Flavor Chart
Quickly identify flavors in wine using the printed version of the aroma chart.
Buy Now
Sindicat La Figuera "Vi Sec" Garnatxa Negra 2019 Montsant, Spain
Yering Station Shiraz-Viognier 2018 Yarra Valley, Victoria Australia
Eberle "Vineyard Selection" Cabernet Sauvignon 2018 Paso Robles, California
Boekenhoutskloof Cabernet Sauvignon 2015 Stellenbosch, South Africa
How do hot climates affect wine?
In 2006, Dr. Gregory V. Jones, a climatologist (and now the leading voice on wine and climate change), created a graph identifying 4 main "macroclimates" for wine. Before this, we didn't really scientifically know that certain grape varieties performed better or worse in certain climates, and we also didn't have a peg on the range of climates in which certain grapes could grow.
Climate plays a huge role in how a wine tastes. Ripeness does quite a few things to wine:
Fruit flavors lean towards sweet, ripe, and baked fruits.
Acidity drops (tastes softer and smoother) in hotter climates.
Sweetness in grapes (and thus alcohol) increases making bolder, more intense-tasting wines.
We observe a higher level of glycerol in wine.
What is glycerol?
A natural product of yeast fermentation, glycerol is a colorless, flavorless substance thought to increase wine's texture (oiliness, body). Most wines range between 4–10 g/L, but late harvest wines can be upwards of 20 g/L!
Want to taste along? Find out how to join the Wine Folly Wine Club.
---
Grenache: A True Hot Climate Wine
2019 Sindicat La Figuera Vi Sec Garnatxa Negra Montsant
Grenache is often overlooked because the most famous wines (like Châteauneuf-du-Pape) don't label by variety. This grape is very much at home in a hot climate because it simply won't ripen if it isn't sunny and warm.
Made by one of Spain's living-legend winemakers from exceptionally high-altitude vineyards, Sindicat La Figuera's Garnatxa is aromatic and complex—a combination of bold fruit and silky elegance that will enthrall lovers of Côtes du Rhône and California Pinot.
Follow along in the tasting video with Vanessa Conlin on YouTube.
---
Deep-Colored Co-Ferment Shiraz-Viognier
2018 Yering Station Shiraz-Viognier Yarra Valley Victoria Australia
It seems odd: Why would you co-ferment a white wine like Viognier with Syrah? Wouldn't that make the wine lighter in color and body? Surprisingly, no! The polyphenols in Viognier and Syrah are quite complex and create a phenomenon where Viognier amplifies Syrah's deep, purple-black color. Scientifically this is called co-pigmentation.
Yarra Valley is one of Australia's most important wine regions, and Yering Station was there before anyone else. The five-star winery's 95-point 2018 Shiraz-Viognier—which has "everything in harmony," according to James Halliday's Wine Companion—shows what's kept them in the upper echelon all these years.
Follow along in the tasting video with Vanessa Conlin on YouTube.
---
Cabernet from Southern California
2018 Eberle Cabernet Sauvignon Vineyard Selection Paso Robles
Technically, Paso Robles is on the Central Coast, but the region is much warmer than directly on the coast. In fact, the farther you go inland, the warmer it gets. This is why Paso Robles was recently divided into many sub-appellations. Eberle Winery has some vineyards by the winery, which is on the Eastern side of the city. It's right in the hot spot!
Wine Spectator called Paso Robles "one of today's most exciting places for wine in California," and Eberle was among the first to harness its Cabernet Sauvignon potential. Their 2018 Vineyard Selection, from an outstanding vintage, shows a stunning balance of power and grace.
Follow along in the tasting video with Vanessa Conlin on YouTube.
---
African Cabernet
2015 Boekenhoutskloof Cabernet Sauvignon Stellenbosch
South Africa's most important red grape is Cabernet Sauvignon, and this variety performs very well in Stellenbosch's ancient soils (we're talking 50 million years old!). These wines have a distinct earthy mineral note despite delivering rich, ripe fruit flavors.
Stellenbosch has been nicknamed South Africa's "Kingdom of Cabernet", in part because its climate is absolutely perfect for the grape. In 2015, one of South Africa's greatest vintages ever, the historic Boekenhoutskloof winery harnessed its mountainside vineyards to craft a bold, complex, and unique expression.
Follow along in the tasting video with Vanessa Conlin on YouTube.
---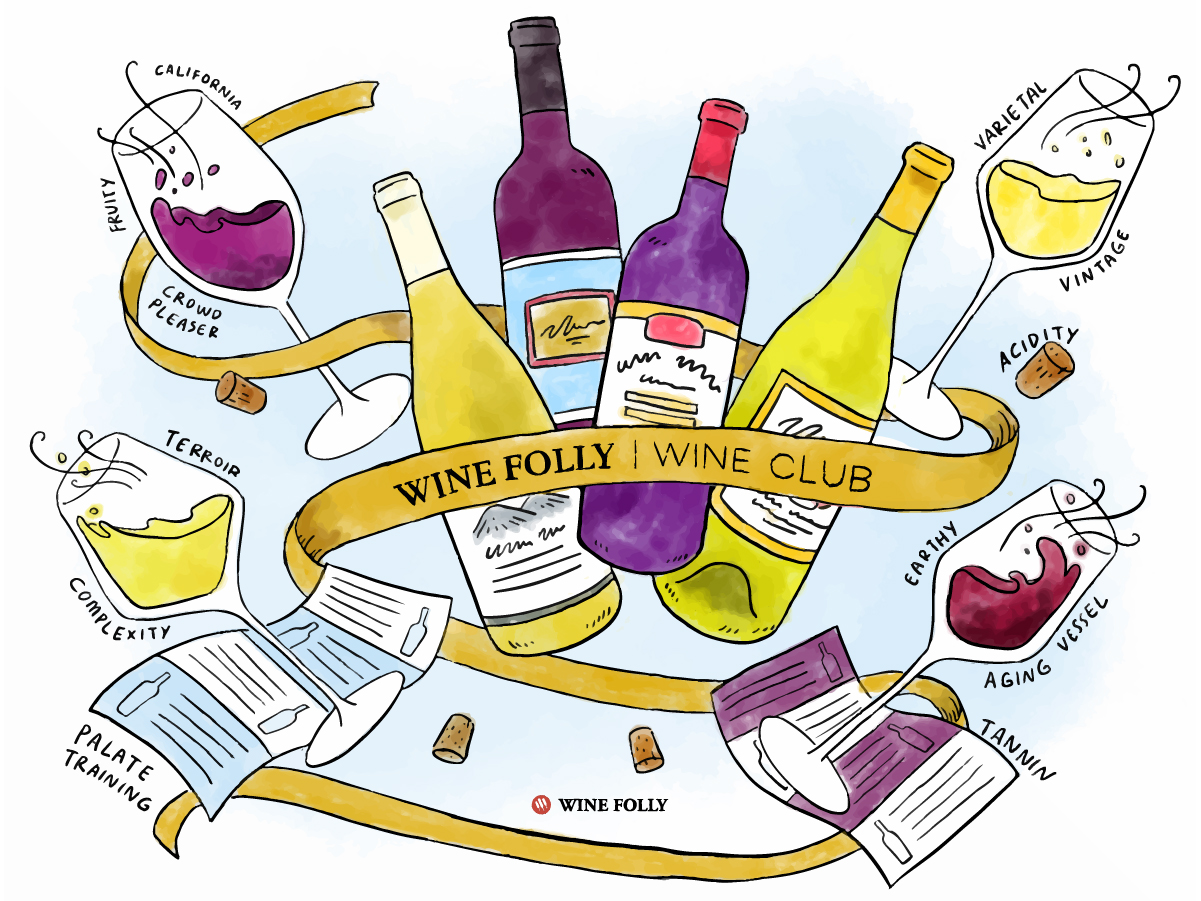 Join Us Next Time!
The Wine Folly Wine Club is bi-monthly (once every 2 months), featuring four expertly curated wines to expand your mind and sense of taste. You can learn more about the Wine Folly Wine Club here.