There are wines out there that build your foundation of understanding in wine. We call them "repertoire builders" and that's what this month's wine club is all about.
Join Now: Space is still available! Join the wine club here.
Wine Club 007: Repertoire Builders
Club 007 marks one year since launching the Wine Folly wine club and this is the ideal moment to go back to the foundations. So we ask, what are the wines we should know? Bottles that represent perfect "typicity" in their style and sense of place?
For this month's club we sourced bottles from Washington's Columbia Valley, the Limarí Valley in Chile, Sancerre in France, and California's Santa Lucia Highlands to find classics. These wines build your repertoire by representing benchmark examples of each varietal wine and style.
Wine Club 007 – Selected Wines
Here's an overview of what's included in Wine Folly Wine Club 007:
A zesty, pure 100% Sauvignon Blanc from France's most classic Sauvignon Blanc vineyard area: Sancerre.
A fruity-yet-elegant Cabernet Sauvignon from Washington State that show's the many aromatic facets of this incredibly complex grape variety.
A deeply satisfying Pinot Noir from one of Central Coast's top Pinot Noir AVAs.
A shockingly gratifying Chardonnay that hits the mark perfectly from Chile's far-off Limarí Valley.
Want to taste along? Find out how to join the Wine Folly Wine Club.
Buy the book, get a course.
Get the Wine 101 Course ($50 value) FREE with the purchase of Wine Folly: Magnum Edition.
Buy Now
---
The Sauvignon Blanc that inspired a movement
Domaine Roger & Didier Raimbault "Vieilles Vignes" Sancerre, France 2018
Sancerre is perhaps the most famous French appellation for Sauvignon Blanc.
Wines deliver focused flavors of minerals and citrus fruits. Special bottles have a subtle indescribable smokiness that hint at their potential to age a decade. We found one of these special bottles and imported it especially for this club!
Pulling on a family winegrowing legacy that stretches back 400 years over ten generations, father Roger and son Didier Raimbault's 2018 Sancerre "Vieilles Vignes" Blanc draws from 50-year-old vines with an impressive level of maturity. Time on the lees and five years of bottle aging have combined to make this Sancerre's most compelling answer to white Burgundy.
Follow along in the tasting video with Vanessa Conlin on YouTube.
---
A Chardonnay done way right
Tabali "Talinay" Chardonnay, Limarí Valley, Chile 2020
When looking for that benchmark bottle of Chardonnay, most pros will turn to Burgundy (for hundreds of dollars a bottle!). So, you can imagine how delighted we were when tasting this beauty.
Everything about this wine creates ideal balance. Fruits of yellow apple, lemon peel, and apple blossom supported with toasted brioche and crème brûlée from oak maturation. Nothing too much and over the top. This is one of these wines that only comes along once in a while.
Vinous concurred, giving the bottle 96-points and saying "Masterfully executed." Yeah dude, we agree.
Follow along in the tasting video with Vanessa Conlin on YouTube.
---
French trained, California raised Pinot Noir
Bernardus Winery Pinot Noir, Santa Lucia Highlands, California 2019
Great Pinot Noir isn't about being the boldest wine. It plays the long game, with subtle juiciness and easy tannins that have you picking up your glass immediately for another sip.
California has a few spots that excel at this variety, and you'll find a couple of the best ones within Monterey–including this site in the Santa Lucia Highlands. This wine delivers juicy flavors of raspberry, strawberry, orange peel, and clove.
Here's a note on the winemaker:
After honing his winemaking craft at Burgundy legends Leflaive, Lafon, and Morey, Dean De Korth set out to replicate Burgundian complexity and balance on California's Central Coast.
Follow along in the tasting video with Vanessa Conlin on YouTube.
---
New world lushness paired with old world winemaking
Delille Cellars "Metier" Cabernet Sauvignon Columbia Valley, Washington 2020
American wine enthusiasts started to take note of Washington's impressive wines back in the 1990s. What producer did they find? None other than Delille Cellars! The "Metier" bottling has been around for more than a decade along with their other famous bottling "D2."
From a Washington winery that blends Old World structure and grace with New World lushness and power, the Metier Cabernet draws refined complexity from a tiny mountain AVA and the region Wine Enthusiast says "sits atop the state's Cabernet pyramid."
Follow along in the tasting video with Vanessa Conlin on YouTube.
---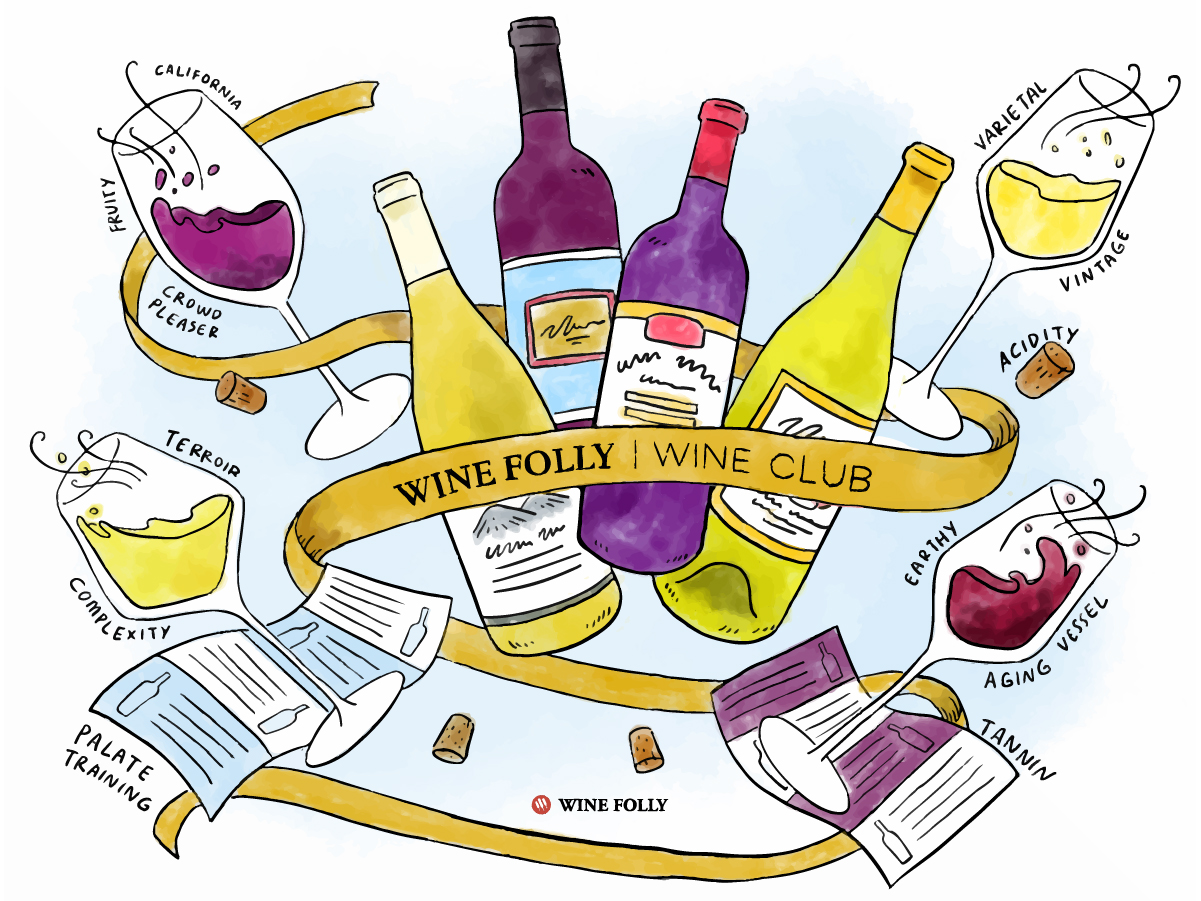 Join Us!
The Wine Folly Wine Club is bi-monthly (once every 2 months), featuring four expertly curated wines to expand your mind and sense of taste. Learn more about the Wine Folly Wine Club.