It's time to explore some wine regions that are incredibly delicious but still unknown. This month's wine club shipment theme is "Off the Radar."
These wines are staples in fine dining but don't make it to mass-market shelves. Each wine has a unique story that will deepen your understanding of the world of wine.
Wine Club 006: Off The Radar
It's a new world, so it's time to taste some wines from unknown regions. These wines are truly impressive and show us that great wines come from unexpected places.
This month's club features wines from Lebanon, Mexico, Armenia, and Hungary. You wouldn't think these would be fine-winemaking zones. Get ready to be pleasantly surprised.
Wine Club 006 – Selected Wines
Here's an overview of what's included in Wine Folly Wine Club 006:
Wine Flavor Chart
Quickly identify flavors in wine using the printed version of the aroma chart.
Buy Now
The rare Armenian native grape, Areni, delivers sweet fruit aromas with peppery spice and a texture like Pinot Noir.
A Grenache-based red blend from Baja, Mexico that's flamboyant and expressive giving us a taste of soon-to-be-a-big-deal Mexican wines.
A sophisticated Cinsault red blend by Chateau Musar, a winery in Lebanon.
A dry, lean, Riesling-like white wine made from Furmint, the famous grape behind Hungary's most precious wine: Tokaji.
Want to taste along? Find out how to join the Wine Folly Wine Club.
---
Taste The True Origins of Wine
Yacoubian-Hobbs Areni from Vayots-Dzor, Armenia 2017
Areni is a red wine grape that grows in the high elevations of Vayots-Dzor in Armenia.
This grape is ancient, and winemaking has happened in this area for a very long time. In fact, it's the exact location of the world's oldest winemaking facility dating back 6,100 years.
Armenia's rugged mountain vineyards captivated the ancient wine world, and visionary Paul Hobbs's 2017 Areni—from a variety found almost nowhere else—shows that the nation's winemaking prestige is alive and well.
Grown at an elevation of 4200 feet, it shows an elegance and savory complexity that will entice lovers of Nebbiolo and Sangiovese.
Follow along in the tasting video with Vanessa Conlin on YouTube.
---
The Future of Wine from Mexico
Bruma Areni "Plan B Tinto " from Valle de Guadalupe, Mexico 2019
Mexico has proven to be an exceptional place for grape-growing. And Valle de Guadalupe in Baja, Mexico has a small-yet-devoted following for their complex, fruity-yet-minerally red wines.
You might not know that Mexico is the oldest wine-production area in North America. The oldest operating winery in Mexico dates back to 1597!
Mexico's Valle de Guadalupe is one of the world's most exciting emerging wine regions, and Bruma is at the vanguard of its quality-obsessed producers.
Crafted by a Grand Cru Classé–trained winemaker, the 2020 Plan B Tinto shows the vibrancy and versatility that's landed Bruma's wines at The French Laundry and other top restaurants.
Follow along in the tasting video with Vanessa Conlin on YouTube.
---
Exceptional Winemaking in Lebanon
Chateau Musar "Musar Jeune" from Bekaa Valley, Lebanon 2019
Lebanon seems like a very unlikely place for wine production, given the majority of the population is Muslim. However, you might not know that the ancient areas of the Fertile Crescent and the Caucasus Mountains are the true origin places of wine.
The producer we have included represents one of the finest in the country and competes on the world stage.
Chateau Musar is the most iconic estate in Lebanon's 7000-year winemaking history, crafting bottles cherished by collectors and sommeliers around the world.
Their 2019 Jeune, grown on vineyards at 3300 feet in elevation, is a pure, dynamic expression of the Bekaa Valley's singular terroir.
Follow along in the tasting video with Vanessa Conlin on YouTube.
---
Hungary's Famous Grape Reimagined
Tokaj Oremus by Tempos Vega Sicilia "Mandolás" Furmint from Tokaj, Hungary 2018
Tokaji ("toe-kye") was so famous in the 17th century that it created the designation of origin labeling because there were so many copy-cats! The grape of the viscous sweet white wine is called Furmint, and it's now being re-imagined in a dry style.
Backed by the legendary Vega Sicilia, Mandolás is an intensely mineral wine from a historic terroir.
A white wine that Decanter called "gloriously refined" and that landed on Wine Spectator's Top 100 list, it's a must for fans of Burgundy and Loire Valley classics.
Follow along in the tasting video with Vanessa Conlin on YouTube.
---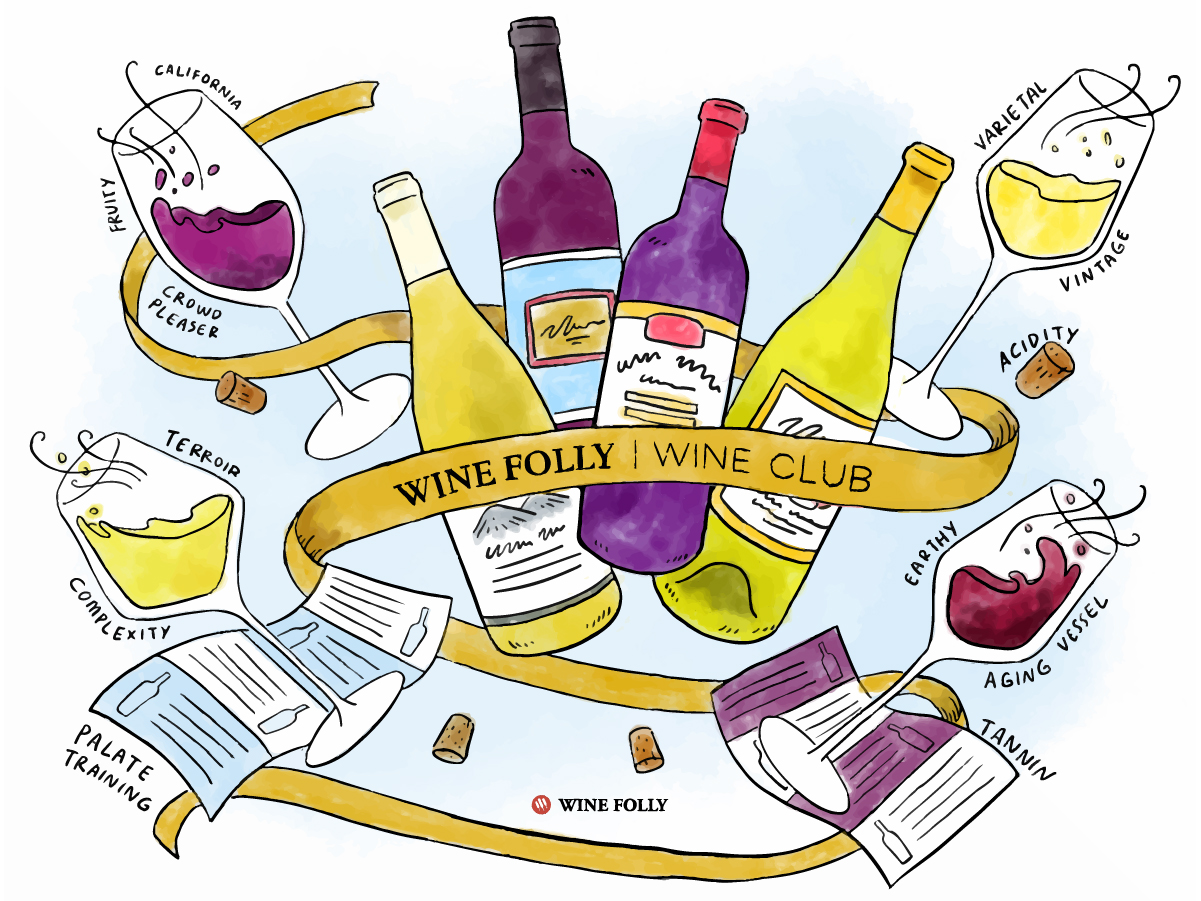 Join Us Next Time!
The Wine Folly Wine Club is bi-monthly (once every 2 months), featuring four expertly curated wines to expand your mind and sense of taste. Learn more about the Wine Folly Wine Club.