See the six major flower aromas in wine and in what wines they are found. Learning the major flower aromas will help you discover all the awesome nuances in wine.
Flower aromas in wine are actually from a variety of chemical compounds. For instance, the smell of geranium flowers in wine is the presence of geraniol, a terpenoid. Many wine experts talk about esters, terpenes and thiols. Suffice it to say, we don't really need to know exactly what these things are except to know things like: what wines smell like roses? You are such a romantic wine geek!

What wines smell like roses?
Flower Aromas in Wine
Rose

A complex flower aroma in wine, rose can be found in a variety of red and white wines. Examples: Gewürztraminer, Gamay, Pinot Noir, Grenache, Sangiovese, Nebbiolo. cis-rose oxide, β-damascenone, geraniol, nerol

Geranium

Considered a fault when present in high amounts because the chemical compound geraniol doesn't occur naturally in grape must (mashed grapes before fermentation). Examples: Muscat, Gewürztraminer, Torrontes, Malbec, Petit Verdot

Citrus Blossom

A perfumed smell that is very complex and desirable in white wines. Examples: Riesling, Chenin Blanc, Viognier, Chardonnay. nerol, linalool, citronelle

White Flowers

A subtle flowery smell that accompanies fruit flavors in white wines. Examples: Pinot Gris, Chenin Blanc, Torrontes, Pinot Blanc, Muscadet, Semillon, Fiano. α-terpineol, anisic acid, phenethyl alcohol

Lavender

A flower aroma found in mostly red wines, similar to rose. Examples: Grenache, Syrah, Mourvedre, Malbec, Petit Verdot, Tempranillo, Sangiovese. cis-rose oxide, linalool, nerol, geraniol

Violet

The floral aroma found in fine red wines. Examples: Merlot, Mourvedre, Touriga Nacional, Petit Verdot, Petite Sirah, Malbec, Cabernet Sauvignon. α-ionone
Sources
"Quantitative analysis of geraniol, nerol, linalool, and α-terpineol in wine" by D. Sejer Pedersen, Dimitra L. Capone, George K. Skouroumounis, Alan P. Pollnitz, Mark A. Sefton
Wine Tasting: a Professional Handbook
Tom Stevenson's Wine-Pages.com
wikipedia on chemical compounds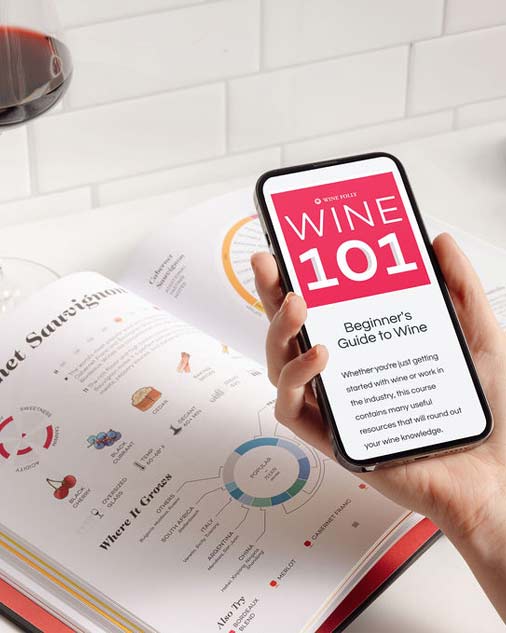 Buy the book, get a course.
Get the Wine 101 Course ($100 value) FREE with the purchase of Wine Folly: Magnum Edition.
Shop Now